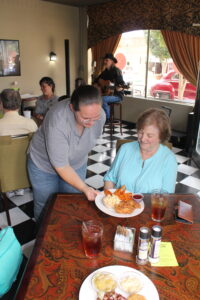 American Press Travel News-June 19, Linden, TN.–Bob and Barb "On The Road Again." When we arrived in the small town of Linden, Tennessee we almost immediately felt at home. We had been invited to stay at the newly remodeled, and upgraded Commodore Hotel. We met Kathy and later Michael Dumont, and realized they were on a mission. However, they were incredibly friendly and accommodating. Michael took us on a delightful trip through the county, and also showed us his remodeled B&B outside of town, and close to the Tennessee River (we'll be back) that has more species of fish in its depth than any other American river (according to Mr. Benson of the Chattanooga Aquarium) and I plan to get close and personal with some of them as soon as possible. The Commodore held 22-rooms at the hotel and next door annex, and all done-up first rate, but with very reasonable cost. www.commodorehotellinden.com (931) 589-3224–114 East Main St. Linden TN. 37096
We were invited to fish with the Mayor, Wess Ward, and Perry Counties Sherriff, Nick Weems, who also brought his boat, and fished with us on the Buffalo River for smallmouth and largemouth bass (more on fishing in part-2 of our Linden experience later). Travel writers do travel on their stomachs, and we knew we would be in for a treat with the live music, as we chowed on terrific fare at the corner Music Café in the hotel.
While I fished, Barb went next door on main St., and just after I arrived back at the hotel, we availed ourselves of the opportunity to do "Wave- Painting" at the Buffalo River Co-Op Craft Immersion project. Lots of fun, met great folks doing their crafts "thing" in wood and textiles. We were sent our little paintings to our home after they finally dried. We walked main street and met proprietors of Sparky and Ringos, Dimples Shop & Restaurant, Custom Creations Jewelry and also ate at Tims Video Corner Café our second evening in town. We also met Allyson Hinson Dickey, the new Chamber Director who offered us the Keys to the town (so-to-speak) for us to visit and experience. The Dumont's invited us to have dinner with them, even though their restaurant was closed that evening. Before I forget; we also visited Mouse tail Landing State Park with Michael Dumont ,and everyone that enjoys camping would love the facilities and hiking ops.
When Michael and Kathy Dumont decided to change their life from Rhode Island to a little town between Nashville and Memphis, TN., they moved to Linden, a town that had seen better days before the Interstate way-laid most of its business and tourist traffic, as new interstates have done so, all over America (remember route 66) they chose the gorgeous rural area between Memphis and Nashville, and purchased land for their home, and acquired several building in the town of Linden. Linden has a backyard of the Buffalo River and the Tennessee River, rife with fabulous landscapes and wildlife.  * Stay tuned for part-2 our visit to Perry County, fishing, The Buffalo River Resort,  and an unusual museum on the Tennessee River.