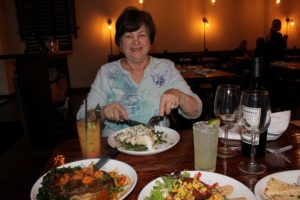 AmericanPressTravelNews–November 3rd, Dublin, GA.-Bob and Barb "On The Road Again", yet "Stopping to Smell the Roses, and Great Dishes Along the Way."- While in Dublin, GA and staying at the amazingly beautiful Page House B&B, we went into town to check out the great restaurants Mono, Owner of Page House told us about. The first location was called Company Supply. Well, the name really fooled us as I hear it does to newcomers to Dublin. First of all, The owner Richard Mascaro's company mission is to provide their customers with all natural, hormone and antibiotic free-food  choices. They also strive to source organic and local when available.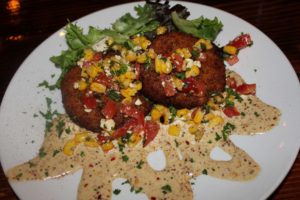 We sat down and enjoyed reading the menu which began the juices flowing: Craw Cake's for an appetizer caught us first – a mix of craw-fish tails, spices, Trinity and Panko bread crumbs, cooked to perfection, accompanied by corn and feta salad with Creole aioli-viva the tail! Superlative appetizer!
We also checked out Sweet curry chicken salad, Chipotle Pimento  cheese,  Black-Eyed Pea Hummus. Served with warm pita bread. Call Cole Trio Coco Cole Trio.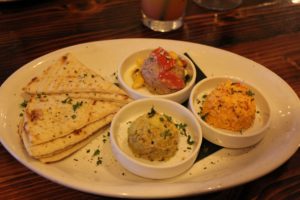 General Supply as they call it, offers there award winning main entree: Delta chicken. A grilled breast, sauteed spinach sun-dried tomatoes, becamel sauce, goat cheese, and served over garlic roasted mashed potatoes. Zowie! We loved this dish too-if you remember from other posts, we are big on garlic and so is Mascaro.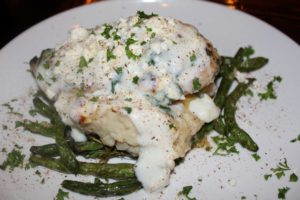 1-478-353-1655  COMPANYSUPPLYGA.COM