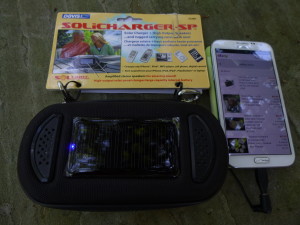 APtravelnews– American Press Travel News—July 26th, Goose Holler' Farms, Crossville, TN. –Davis Instruments Corporation has come out with another extremely usable and interesting, innovative product.
This new SOL_LIGHT™, SoliCharger-SP™   that we have had to try and test is right-on as described here. The solar charger is married to High Output Speakers in a rugged carrying case, all in one! The charger can charge any iPhone, iPod, MP3 player, cell phone, digital camera. We tested the unit attached to our Samsung Note 2, our lap top computer, our grand kids Play station and Barbs iPod. Not only were they being charged nicely, but we enjoyed a rich (surprisingly clear and adjustable voluminous) sound from the built-in speakers. There is a tiny purple light that shows how the unit is charging and always ready to offer that charge to the above named electronics. The unit has a large capacity internal battery that the photovoltaic built-in panel charges anytime sunlight strikes it.
The unit is wonderfully compact and good looking and there are connective plugs and wires that fit virtually any small electronic buss plugs. The adapters are for 32 pin Apple, USB, USB Mini, and USB Micro. The specs are: a 5.5 volt, 70 milliamp solar panel. The internal battery is a 2000 milliamp lithium-ion battery. The DC Input is 5-6 volt, 500 milliamp and the output is 300-500 milliamp. The speakers are two 3 watt amplified units.
We love this unit and as travel writers, we are always using our laptop and other electronics on the go. So we have decided to keep it and even buy another! Go: www.davisnet.com  for more information on this solidly built unit!