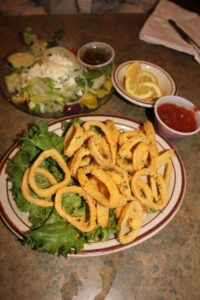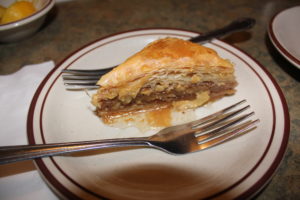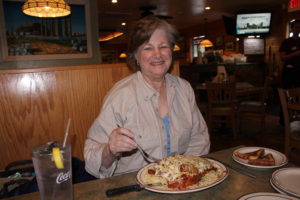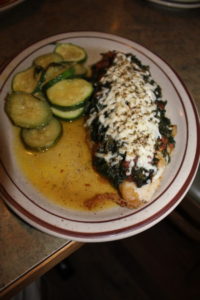 American Press Travel News–May 1st, Dillsboro, N.C. at Kostas Family Restaurant.  Just heading into this little "burg" there are two terrific restaurants. First up-Kostas Family Restaurant. The staff was spectacular! From the tall-glass-of-water-owner to the wait staff and even the register gal, you felt that their name was apropos-Kostas "Family" Restaurant. Every diner who has visited a Greek owners restaurant knows about the Greek Salad. We both had one as part of our main dish platters. Decent amount of Greek Olives, tomatoes, greens and onions. The salad dressing was Mediterranean delicious. Grilled Basa fish topped with Feta Cheese, Spinach, onions and tomatoes with rice Pilaf. Together with fresh, hot Pita Pocket breads-WOW! Besides all the actual Greek specialties the restaurant had Italian dishes and all American ribs and meats too! Barb opted for a pasta dish with grilled chicken Parmesan, covered in real mozzarella, and oven baked with spaghetti. We finished off our meal with honey, nutty-stuffed Baklava and mom's rice pudding! When you get over Dillsboro or Silva, N.C. way give a call, no reservations necessary most of the time: 828-631-0777  Visit them at: www.kostasdillsboro.com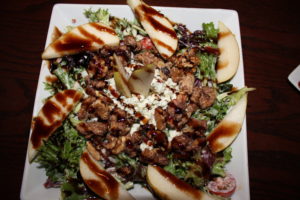 AmericanPressTravelNews.com–January 6th,–Marathon, FL.–Bob and Barb "On The Road Again" & "Stopping to Smell the Roses and Seafoods" at the Marathon Grill & Ale House. We stopped for lunch and absolutely loved everything about this great spot, just off the Overseas Highway in Marathon. This fine dining spot has two Happy Hours and no matter who dines and has a brew here will be very happy indeed!  Grill is open for lunch, dinner and late night steaks, seafood and pasta. To kick off our lunch we started with a most unusual pear & bleu cheese salad festooned with field greens, walnuts, tomato and onions tossed with sherry vinaigrette topped with bleu cheese glazed walnuts and sliced pears. This was a salad that had pears, but had no peers-unique flavors and would have made a fine, healthful, tasty meal all on its own.  But, we were just getting started: We next dove into a platter of shrimp Po Boy's.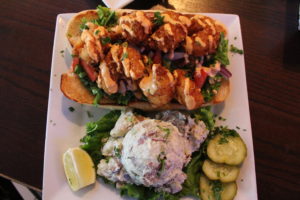 The flavors and enhancements to this dish by way of sauces and spicing 's was extraordinary.  Barb decided on dividing up some baby-back ribs. Again the meat barbeque sauce was just right. We slid slivers of meat off the bone that were cooked just right and tender. The flavor was as good as it gets. We also tried the shrimp and scallop scampi-WOW! Every part of this seafood dish from the Linguine al dente, to scallops that were firm and tasty, as well as shrimp caught out of Key West waters was superb. Sure we took a few boxes of foods we could not fit in our stomachs and for two day after our original feast we had to order for our books pictures, we continued to enjoy all of these dishes. They have a full menu of more than 75-dishes available until 2AM and over 100-craft beers ( I drank Mile Marker 0 beer and loved it) There early bird specials every day from 4-6 pm in the afternoon, offers "buy one entree' and the other one is "on the house!" They have a kids menu, and every day is a new treat day (call for details 305-743-5888) Oh, I almost forgot we also had Pork Hambies for appetizers and you just have to try these to understand the flavors of this boned meat treat! Dessert, sure! We had Key Lime Pie with blueberries-first time we tried this twice! Beyond luscious!  Marathon Grill Ale House is located at MM 50, 5800 Overseas Hwy. Marathon, FL. Gulfside Village Plaza.