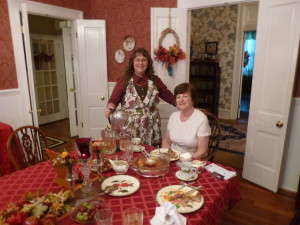 APtravelnews – October 15th-Hamilton, GA. When we pulled in to the Holly House in the small town of Hamilton, GA. (20-miles from Columbus) we entered this truly fine home between two giant  100-year old Holly bushes.  Close by the other side of the front steps stood a huge Magnolia Tree, almost ready to bust out in giant fragrant blooms.  The landscaping helped frame this 6000-square foot,  in the folk Victorian style home, perfectly!   Barb and I entered the front door and were met by Judy Archibald, our incredibly sweet and friendly owner/hostess.  Little did we know the treat that awaited us?  The home was decorated with a wonderful selection of antiques and vintage clocks and church organs, a player piano that Judy; quite professionally and beautifully sang to the tune of that 1910 song; "Let Me Call You Sweet Heart"; that to a person with a nostalgic bent, would bring tears to the eyes (it did mine, remembering all my departed loved ones) of anyone who remembered the sweet pastel views of their past happiness during their formative years with their families and friends, mostly now departed. The themed rooms all lent an air of relaxation and simple, quiet contemplation of the real meaning of life and all that it truly encompasses.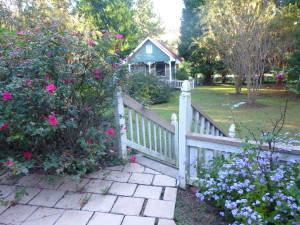 We've visited dozens of B & B' over the past 20-years, both privately and professionally as B&B reviewers and travel editorialists. Only a few of these are remembered with fondness.  The Holly House, with everything it engendered, by far has been the best overall experience of any of the past visits we've made all over the south and northern parts of the USA. Just meeting and hearing Judy sing would be enough for a visit!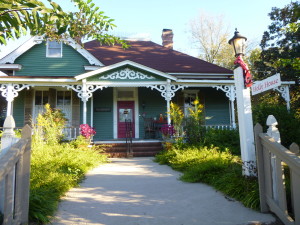 In 1992 the ceilings were lowered and the home made a perfect, now two-story, 6 suite room B & B with a music parlor, the Salute to Liberty Room, the all important gorgeous dining room, two kitchens and is located near Callaway Gardens, and behind a very historic courthouse.
In 2011 Don & Judy Archibald from Manhattan Beach, CA. bought the 1880, totally remodeled in 1992, Holly House and love all that it means to them, their children ( their children and grown and do not live at the Holly House) and their guests. Each guest room is uniquely named and furnished such as the "Victorian Countryside room", the "Holly's Haven", the "Inspired by nature" where we slept for a night, the "Walton Romance Room", the "Journey Suite" and the "Holly Room. "There is a billiard room, a library and just behind the property a nature walking path meanders through the wood and glade. The location is 20-miles North of Columbus, and 85-miles South of Atlanta. Our breakfast, one of the very best ever, featured a giant peach cobbler made with peaches stuffed into Croissants. Eggs and pork chops, great coffee and  of the garden Rosemary, roasted potatoes-WOW!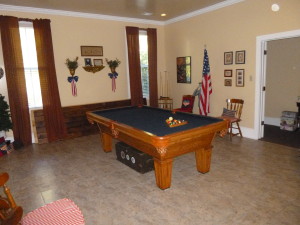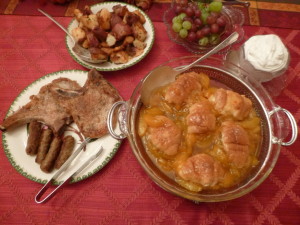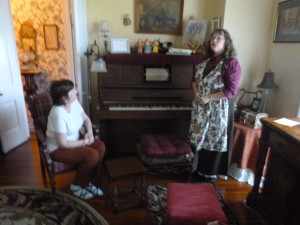 The B & B address is 127 Barnes Mill Rd. Hamilton, GA.  And phone is 706-628-5634 See their website: hollyhouseofHamilton.com