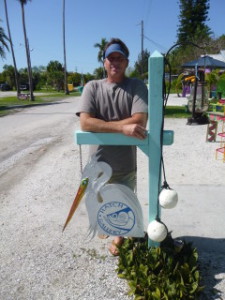 American Press Travel News – April 6th, (Bob's Birthday) Team Barb and Bob in Charlotte County, "Stopping to Smell the Roses" Visiting the Antiques and craft of Placida's breeding ground of entrepreneurship! We met up with dad John Hatch and his wife at the old clam farmers shack and purchased by son, John Hatch in 2003. What John did with this was just perfect for a family creative arts and crafts business. Located N.E. of Gasparilla Island, overlooking Gasparilla Sound and next door to The Fishery Restaurant.
The little re-purposed shop, has many fans both in and out of town, wanting much of the crafted items in the shop, for decorating the walls of their high end condo's and homes. Many of Jon's and his father's creations are shipped all over the USA. Who wouldn't enjoy viewing, what most people would think of as flotsam and jetsam, seeing that same discarded and passed-by-as-junk, become a true piece of cherished art, such as a palm branch turned into a gorgeously crafted croc or alligator that doesn't bite! Well, at Hatch Gallery you'll see this and true collectible land and sea antiques as well! Check out their website: www.john-hatch-originals.com and give the Hatch Family a call at: (941)-697-9531 
I found some early musky lures and old metal tackle boxes too!