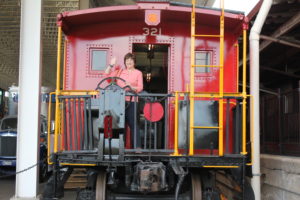 American Press Travel News–Feb. 28th, Crossville, TN. "Bob and Barb On The Road Again."–An hour's drive on I-40, from Crossville, sitting on the shores of the Tennessee River, and surrounded by some of the most scenic lands and lakes that Middle Southern America has to offer, Knoxville, Tennessee is as gracious a host as you'll find anywhere. Stop anyone and ask them about Knoxville, and then be prepared to listen up and smile. "People are very friendly. We like "friendly."
Several main highways bisect, or are very close to the city. I-75 from S.W. Florida through Atlanta and Chattanooga, I-81 that links the northeast with the southeast, and I-40 that cuts across from Memphis west to the eastern corridor to Asheville, and links up with I-95, the eastern seaboards main highway from the Florida Keys all the way to N.Y., and the north east.
With world class museums, antique shops, and quaint boutique shops that you can shake a credit card at, great accommodations, and really fine cuisine, Knoxville offers something for everyone, and on everyone's budget too.
Sounds like a Chamber of Commerce ad, huh? Well, no not from me, I call it as I experience it!
Bet you didn't know that Knoxville is and was home to the Blues phenomenon. Music does take center stage here.
We checked in to the excellent Disney-like, pyramid Hotel Knoxville, with soaring floors open to a courtyard grand space, and a restaurant. The hotel was so conveniently located, that many of the great restaurants and locations (such as the Basketball Hall of Fame) and the Sun sphere left over from the Knoxville, Worlds Fair we visited, were in walking distance.
For a walking tour, we found Paula. Paula A. Johnson created her own business: "Knoxville Food Tours." Her tour incorporates the history food and fun that Knoxville has to offer for a very reasonable fee. She took us for tastings (yes, its always lunch time for Paula's guests) to Oliver Royale, Bistro at the Bijou, Dazzo's, Coolato Gelato, and a for great juice bar on the square. She gave a us a running history of these, and other restaurants, as well as a fine taste of what Knoxville was, and is today in the arts, music, craft beer and food scene.
Paula also has published "The Lost Restaurants of Knoxville." A great historical read! For reservations, go: www.knoxvillefoodtours.com and give Paula a call at (865) 201-7270. Paula A. Johnson is a great personality, adding to the terrific personality of Knoxville. She helped make our visit "excellent."
.
The next day we attended a early dinner aboard the big Star of Knoxville, on Neyland Drive. This paddle boat is the queen of the Tennessee Riverboat Company, docked at the Volunteer Landing on the Tennessee River. We and other visitors were serenely and quietly paddled past great landscapes, and architectural glimpses of the Knoxville area. We enjoyed a nice meal, great local company, and views of a green land that just wouldn't quit. www.TNriverboat.com (865) 525-7827
Becky Hancock, Executive Director, toured us through the restored Tennessee Bijou Theatre, the official state theatre of Tennessee. $23-million was spent in the restoration of this former 1928 Spanish-Moorish style early movie palace. They even did over a mighty Wurlitzer organ, and some the interior details included Czechoslovakian crystal chandeliers, and Asian influenced carpets and drapery patterns that hung over and around Italian terrazzo floors in the Grand Lobby. Give a call for information: 865-684-1200 www.tennesseetheatre.com
The Knoxville Museum of the Arts was especially delightful. Their permanent collection exhibits could keep one enthralled for an entire day, all by themselves.
On Gay Street, we stopped in to The Blue Plate Special; a daily live traditional music performance that was broadcast on historic WDVX Radio. The live broadcasts allow everyone to just come in, sit down during the broadcast, a local and tourist treat since it started in 2005. We enjoyed several sets of great country and bluegrass from well-seasoned musicians.
Today, there's a place for you genealogical minded folks-the Calvin H. McClung Historical Collection at the Museum of the same name. It is an affiliate of the Family History Library in Salt lake City, Utah, and one of the south's best genealogy research facilities, as well as the Knox County Archives established in 1792 and virtually intact. This museum is also a Smithsonian affiliate, and it emphasizes archeological research in the Tennessee Valley Region with an award-winning permanent exhibit "Archeology and The Native Peoples of Tennessee.
We visited the Ijams Nature Center on 2915 Island Home Ave. (865-577-4717) For a 108 years, the Nature Center is a renowned bird sanctuary on 275-acres, and it has played an important role in the environmental education and outdoor movement in East Tennessee. The Ijams legacy is largely untold in a historical perspective, but it includes Girl Scouting, horticulture, ornithology and hiking-all encouraged by the Ijam's by example and design. The Center has a Lost Species Exhibition exhibit, and is well worth visiting. Remember, we all live downstream and "A day going down stream puts your head firmly into upstream of life!