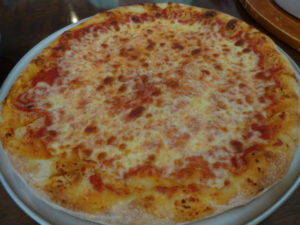 American Press Travel News–December 18th, Port St Lucie, FL. Bob and Barb "On the Road Again"–We often take for granted how many businesses are in walking distance to the front gate of our Florida home. Upon our return from an extended time at our TN farm,  we marveled at how many new food spots opened since we had left last April. Here's just two of several new ones we just tried:
When Rosati's opened last July, they were expanding their pizza business from Wisconsin to Florida, from their corporate headquarters in Chicago, into Port St Lucie, West.  They are a great spot to get great hand-thrown dough pizzas delivered, or that can be picked up anytime day or night.
The business offers great salads, pasta and pizza as carry out, but there is some seating inside and outside as well. My favorite pizza is adorned with real garlic, olives and mushrooms, on a thin-crust with some crispy bubbles from the bake. When I see round mounds of dough ready to be rolled out, spun and thrown, I know the place is keeping it "real."
If you just crave a slice and a soda, its $5-bucks. We tried both a Chicago style thick crust cheese and delicious Italian chunky pizza sauce. Both the thin and the thick variety were quite good-we'll go back or call for more next week. Rosati's motto is "Keeping It Real Since 1964." They also provide catering services and they are located just across from our gate the opposite end of Dunkin Donuts. 772-340-0999.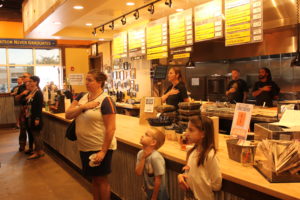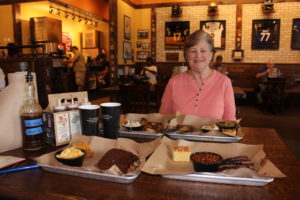 Mission Barbeque, on our side of Port St Lucie Blvd., on restaurant row, is a unique smoked-meat BBQ. Every day at 12-PM all employees and guests stand, hold their hands over their hearts and sing the National Anthem. Barb and I enjoyed seeing youngsters joining in with their parents and the employee's seemed quite proud of their work place and support of our troops and our great nation. Just outside, there is a large Army truck, outdoor seating and plenty of parking. They make their 10-sauces daily and we enjoyed the smoked brisket, ribs, chicken and turkey, as well as their tasty side dishes, too. Get on line, pick your favorites, take a cup for soft drinks and be prepared to not go home hungry. We liked the place. and as we noticed at the lunchtime filled tables, so do many others in Port St Lucie. Stop in for a sample taste if you like. Located in Port St Lucie, West on St. Lucie West Blvd, just down from a Publics.