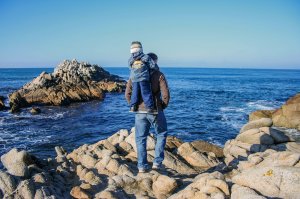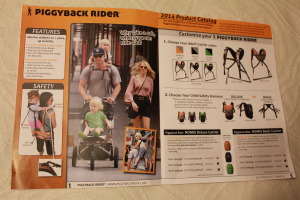 APtravelnews– December 27th, Port St Lucie, FL – Bob & Barb —we were at the International Gift Exposition in the foothills of the Smoky Mountains and met a dad comfortably walking the aisles with his son. What immediately came to mind was: "No dad, my feet are tired" "OK  where is my son now" the young boy was riding piggy back while standing up just behind his dads back. I chatted with this father and asked him where he purchased this PiggyBack Rider and why? He confirmed what I was already thinking: He said that these days, when out on the trail or going shopping (when he has to) he wants to know where his child is at all times. He takes a ferry, he travels, goes kite flying, fly fishing and enjoys a whole array or outdoor pursuits and wants to share this with his son. When his child gets tired and complains his feet are hurting, voila this PiggyBack Rider allows him to stop the whining and let them both enjoy the journey, short or as long as it might be.
At this writing, I now can think of dozens of reasons why this dad invented it and mom approved! American ingenuity at its best, this item is great for children 2 and half years old, and older kids up to 60-pounds in weight. The PiggyBack Rider is the worlds first and only, standing child carrier, and it functions similar to a standard backpack. The unit has a shoulder-strap mounted sturdy aluminum foot bar. With integrated grab handles and a safety harness for security. The excellent idea works just excellent! In use, the child's weight is distributed at your body core, allowing a natural upright walking posture, while children love the height advantage, rest and quality time with their mom, dad, or relative.  A great reason for using this carrier is that it's also a platform for a child to be able to bond and learn about all manner of outdoor pursuits, safely! Dad and mom can show and tell in hobbies such as bird watching, fishing, archery as just a few examples as well as a child have a great advantage in viewing street events like parades and visits to the zoo, etc.
The padded unit with a chest strap,  features four secure hand holds, and a child safety harness that tethers to the carrier as well as also sporting a wide spaced bar for stability. This carrier is designed as a unisex item, so mom or dad can use it. The whole item is only 3-pounds-about the size of a rolled up towel and fits in a custom carry bag.
See my next post showing some Hollywood movie folks enjoying their unit, while their kids are enjoying being up close with mom and dad and loving it!  Take a look at their website: www.piggybackRider.com or go ahead and order at: 301-541-3744 also go info@piggybackrider.com  and go "ride the bar." They have new colors and there are Deluxe models and standard models.