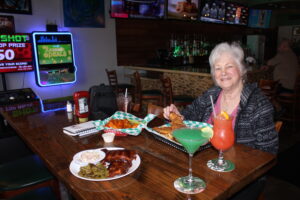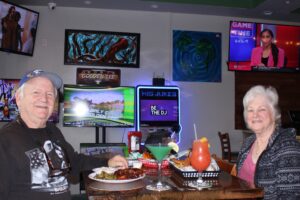 American Press Travel News–Tail Gators Brews & Grill—January 22, Bob and Barb "On The Road Again"–Since their establishment in 2014, Tail Gators food and cocktail emporium (now two locations in Port St Lucie) is delivering a great lunch and dinner experience to the Treasure Coast community.
Barb and I decided to dine there for lunch, and we were not disappointed. From the Mahi (dolphin fish) plate, to a rack of ribs and an appetizer of hot wings, we totally enjoyed every bite of Tail Gators offerings (yes, we took home those leftovers).
We were 1st  introduced to Gators by the Port St Lucie Fishing Club, many of their members attend a Wednesday, music bingo dinner event. We were invited by Frank, the Membership director, and have since attended this fun event when we are in town. Gators runs different fun specialty events each night, one night Poker and Tacos, another, Karaoke Trivia, and kids under 12-eat free, and the aforementioned Musical Bingo, a regular Bingo and dollar wing night too! The restaurant can seat a large clientele, so no one is too close and space is quite open.  Ashley, the G.M. at Gators is very proud of position at Gators and said just a year before, she was a waitress and worked up to management. She was very accommodating!
The ribs: Well, they were terrific, properly sauced, not drowned and the Cole slaw dish was emptied, that's how good and tasty. The Mahi and fries were a meal big enough for two. No fishy smell or taste, taters were fried just right, and yes, the same coleslaw. Wings and drums, celery and blue cheese-a fine appetizer, that could have been a lunch on their own. The prices are quite moderate for the amount of food and its tasty quality. They do catering, and provide daily delivery. From Kings Isle you can be at a Gators in 10-minutes, one is on Peacock and the other is on Port St Lucie, Blvd. Give a call at: 772-879-2700 and over at Court Yard Circle at Peacock:772-446-9333.