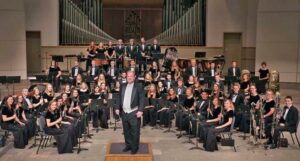 American Press Travel News–April 29th-Bob and Barb "On The Road Again" stopping to listen to the music at the Stone Memorial High School in Crossville, TN. The event was sponsored by Bed and Biscuit Kennel, State Farm Insurance and David Bell.  When Dwight Wages, the groups Artistic Director invited us to the event called "Across The Pond", that featured pieces from Scotland, Ireland, even an ode to Elton Johns prolific music pieces, we were delighted, and the audience of over 150-attenders showed their applause with gusto.
The program presentations such as Valdres March, Rondo-Allegretto from Weber's, Clarinet Concerto, Dam Busters march, Neath the Dublin Skies, The Celt of Glencoe and the Essential Elton John and Lord of the Rings: Fellowship of the Ring were exaltingly enjoyable.
Some of the other musical events in future presentations are: Big Band to Broadway at the Cumberland County Playhouse Sat. May 25th, and the Cumberland County Community Band on May 27th in Downtown Crossville. For more cultural shows and plays give a call to the Cumberland Playhouse at: 931-484-5000.
On your computer, check out Southern Star Symphonic Brass and view all their images and information! If you can't make a concert you can purchase CD's and video tapes. Contacty Dwight Wages for further information at 931-484-6939. They really need donations to keep their 501–c3 in a tax-deductible manner. Go to dwight.wages@gmail.com.