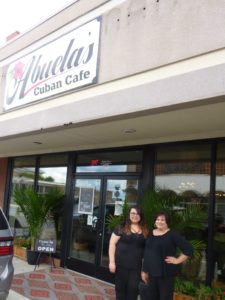 Americanpresstravelnews- September 19th, Crossville, TN.-"Bob & Barb on the Road Again"–Crossville has several very good Mexican Restaurants, now it has Abuelas Cuban Café.  No, not all Hispanic food emporiums are the same. There are many variations on rice and beans, pork and beef, spicing and marinating, etc,
What's different? An island such as Cuba, and the little city within a city; Little Havana in S. Florida, has its own distinctive take from Mexican and Puerto Rican foods. Cubans grow Yucca, of course, as in other Hispanic foods; Plantains and black beans, yet marinated roast pork, seasoned chicken and Cuban Spice Veggies are usually distinctive to Cuban style foods, of course not always.  Havana salad (use of fruits such as mango and papaya) has avocado and a very different take on citrus salad dressing.  Piccadillo bowl has savory stewed beef with raisins and olives (Mexican piccadillo does not usually have raisins) white or yellow rice, yes, but seasoned differently.  All of this is to say, Cuban foods are just different and savory too, in their own right.
We tried the Cuban sandwich, and the roast pork sandwich-they are definitely quite unique in their food genre. In true Cuban style, meats are usually marinated, and this not only softens them, but adds considerable flavor. The Cuban bread is toasted with the ingredients in between the bread, usually pressed solidly on the grill. Various items (pork, ham, salami, pickle and cheese) are melted and hot when brought to the table with a side of sweet plantains (banana's) delicious!.
Mom Karen Reph (the Abuela- means Grandmother) and her daughters;  Kelsey  Green, and Karly opened the restaurant July 7th 2017. But first, they did a few "pop up" trials where they went into two other off-day restaurants, and showcased their dishes to the public. They had great responses, and so they "jumped the broom" so to say, on to, and into 595 Main Street in Crossville and opened Abuelas Cuban Café.
WOW! The café con leche (Coffee with hot milk) a very Cuban coffee presentation, is superb. Their flan custard dessert was delicious, and the empanadas (little fried pocket sandwiches like those fresh fried pies) were filled with ground, marinated beef with raisins and olives. The empanadas were terrific, and we know; Barb and I lived near some of the best Cuban restaurants in S. Florida, and frequented all of them from time to time several years ago. When you go, try the Yucca Fries with some tangy mojo mayo for dipping.  The Havana Salad, try it for yourself-its got the goods for flavors of the islands.
We really like Cuban coffees, and starting out the day with a strong, sweet Espresso is a real mood, eye opener, and energy wake-up.
Karen Reph, mom and grandmother amongst the 3-co-owners said that: "We brought to Crossville our heritage foods we grew up with, and felt Crossville folks would love them too."
We explored something new in Crossville, and found ourselves at a Cuban Restaurant, so reminiscent of what we enjoyed in South Florida and the Keys, and we are happy to recommend Abuelas for everyone looking to spice up their lives and palates, for a change of pace.  Abuelas is Located at 595 Main Street, store #102 in Crossville.
By the way Barb and I wrote the book "Best Restaurants in the Florida Keys."(Available at Amazon) Of the hundreds of restaurants, one of our favorites was a Cuban Restaurant.