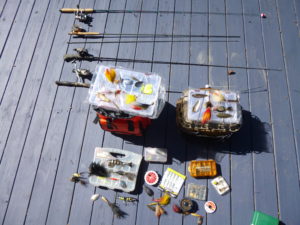 American Press Travel News–March 10th,-Bob and Barb "On The Road Again."  Probably have not thought about this, but fishing does burn calories. If standing on shore and casting for two hours how about 470-calories "gone?" Fly fishing as you walk in a stream, how about 670-calories an hour. In a boat, not moving around much but jigging on the bottom, about 500-calories  Bank fishing, sitting on your butt after a cast of bottom baits. About 360-calories for two hours. 
When your fishing, your moving, thinking, bending, casting, walking to your location and if your hooking up with scaled or unscaled critters, your burning calories. 
Of course hunting and other sports burn more calories, just as brisk walking does too, but it turns out just about anything you do out in the outdoors on a sustained minute by minute basis, burns that fuel you have stored.
So, its Sunday today and I'm heading out behind my home to our bass pond for some fly fishing activity. Or maybe casting with my new/old reel I bought at a yard sale yesterday to try it out. Its not that I don't have about 90-reels, its just I love to sell duplicate reels and gear on ebay, so I can buy more gear at yard sales-boy do I have a two car garage that just hasn't seen a car in ages!!