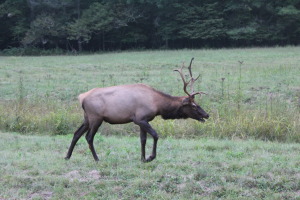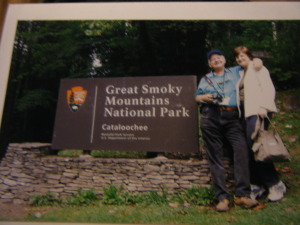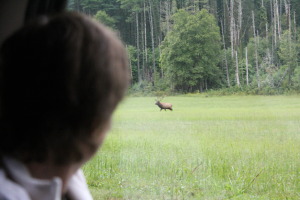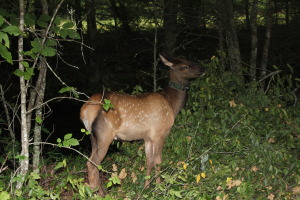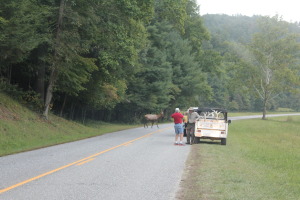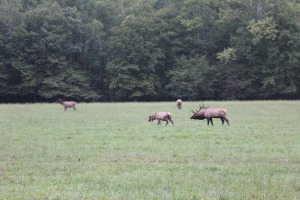 APtravelnews-September 10th, Maggie Valley, at Cataloochee Valley-We took part in visiting the Cataloochee Valley area full of transplanted elk. The bulls were bugling their dominance over their herd of cows-quite a display! The occasion for this trip was an Eco-Tour and Picnic lunch with Cataloochee Valley Tours, Inc. Esther, the owner and tour guide put us in touch with the history and actual animals (Elk) that had been reintroduced to the area known as the Great Smoky Mountains National Park. We took in the beauty and grandeur of a place in time and history that, although now having the protection of it being designated a National Park, put us in touch within a living history of the way this place once was, untold years in the past. The only obvious hint that this area has taken on the veil of modernity, was the 3-mile tar road area of the valley (most of the other roads are gravel) and the  (of a couple of hundred years of  human habitation now gone from the park except for a few buildings left as monuments of this habitation) signs of old foundations left after so many homes were burnt down, during the course of turning many private lands into a park designation, and takeover of the lands of the Cataloochee Valley by the US Government for future protection against the inroads of commercialization.
Viewing the elk and the big adult bulls, hearing their bugling gave me the feeling of a palpable tingling on the back of my neck, I realized that I was being witness to a tableau that has played itself out season after season for many, many millennium, and for a moment- a mere quadrillion of a second, on a million-year timeline, I was there touching the face of Gods handiwork "again!"
Esther, our Naturalist Guide was responsible for this opportunity! She is, and will be a teacher of visitors to this wild and natural area for a long time!
Esther Blakely – Certified Master Naturalist
(828) 450-7985 – cataloocheevalleytours.com