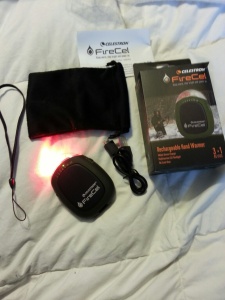 APproduct  News-October 22nd—Crossville, TN.—Celestron.com has a few very handy and neat products and this one;  FireCel a Rechargeable Hand Warmer dresses out into a 3 in 1 package capable of charging your mobile devices, being a Multifunctional LED Flashlight and also a no Scent hand-warmer. The unit is smaller than a pack of cigarettes has a lanyard cord, a USB Cable, a Soft carry bag and it charges IPhones, iPods, Smartphone's and most USB charged devices.
The hand warmer is a dual temperature unit either 110 or 130 degrees and there is no scent unlike chemical and fuel based heaters.
The red or white flashlight has five modes and the battery system is a 2500mAh Lithium Ion Rechargeable model.
Boy do I love this little, powerful, useful "guy."  There are two things I can say about it personally:  I will never leave home without it and if anyone does, he will never know what he is missing as he cries: darn it my cell battery has gone dead and oh, heck my hands are cold after touching his automobile wheel early on a winters morning and oh yes, of course "dog gone it; where is the door lock key entry, wish I had a flashlight?" This little "puppy" has it all and takes up almost no space in pocket or purse. I have two units, one for my glove compartment and the other for my jacket pocket!
Go: Celestron.com   Celestron, is a Torrance, California, LLC.  Check this and other great idea products that are no longer an idea, but a reality!