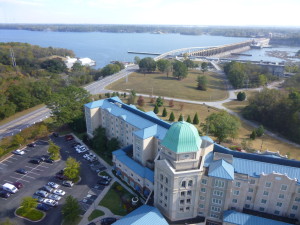 APtravelnews-October 23rd—Florence, AL. and Lauderdale, County is quite progressively moving forward with offering locals and visitors some of the best historical, modern as well as iconic music entertainment and even spiritual attractions, excellent restaurants and accommodations that AL. has to offer.  Barb and I, thanks to the very professional, yet extremely friendly, Georgia Carter Turner from Florence and Lauderdale Tourism Development Council,  brought us in to familiarize us with many opportunities that all visitors can take advantage of as well.
We stayed at the Marriott Shoals Hotel & Conference Center, which offered excellent buffet breakfasts, lunch and dinners at Swampers Restaurant (see images of our meals) comfortable rooms and even an indoor and outdoor impressive swimming pool and spa. The staff was very pleasant and friendly; the elevator never kept you waiting- it was as fast as any I have ever experienced. The beds were perfect!  It's tough to be comfortable traveling and bed-hopping, but here we slept comfortably and bedded down on the 6th floor watching vast sunsets and sun-ups over a panoramic view of hill and dale, viewing the nearby waters of Muscle Shoals and the Tennessee River. www.marriott.com/hotels/travel/msimc-marriott-shoals-hotel-and-spa/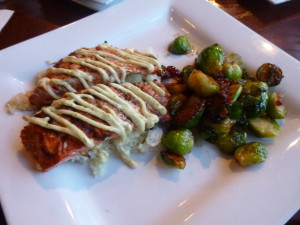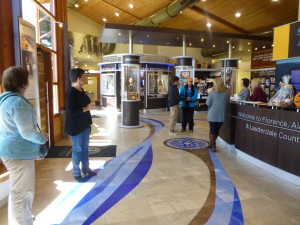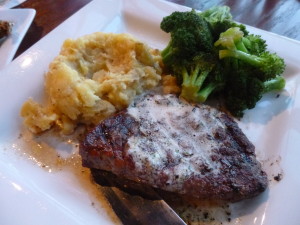 Early Monday morning, writer Rebecca McCormick from Hot Springs Arkansas  and I were scheduled  to fish Pickwick Lake with Guide Lance Walker. It sure was cool traveling at 75-miles per hour with his Skeeter Boat powered by a 250-hp Yamaha, but we got to cover plenty of water and with a bit of a cold-front, the fish had a bit of lockjaw. Fortunately, we carried Click-It Hot Hand Warmers. Lance loved using these near instant reusable units in his hands and on his back too. Fortunately we had the right guide. Lance knew where they lived and we popped a 9-pound largemouth, a 4-pound smallmouth and a few additional bass in the 4-pound range. Plenty of great fish to photo and release (see images). Overall a fabulous fishing adventure!  www.scout.com/outdoors/wired2fish/story/1466300-pickwick-bass-fishing-showing-out-again
After a wash-up, we headed for lunch and ice cream at Trowbridge's on Main Street in Florence. The diminutive place is an iconic, very reasonably priced lunch spot with ice cream to cry for "more. Along with the lively crowd, we enjoyed sharing this long-time fun-spot that felt like a throw-back to the 50's. Pimento Cheese sandwiches were long time favorites, and I had a Butter Pecan Milk Shake that I can't wait to taste again-WOW! www.yelp.com No there was more to come: Stay tuned for our dinner at Ricatoni's Italian Grill and later; Arx Mortis Haunted attraction, back door tour. It was so spooky and really scary! Note: See lots more in next posts about our whirlwind adventures in Florence and Muscle Shoals, AL. Check out their website at:  www.visitflorenceal.com  We're Going back for sure!