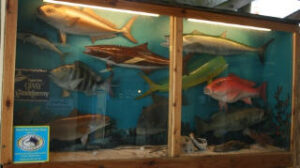 American Press Travel News--Flashback-—Bob and Barb Stopped to Smell the Roses —Just south of Mobile, Alabama, along the 32-miles of Gulf Coast coastline, lies an active beach community called Orange Beach and Gulf Shores. Last month Barb and I had a chance to stay, play, be greeted and introduced to the areas attractions, accommodations and dining spots-from fine dining to waterfront vittles that warmed the cockles of our hearts, although Barb would say: "made no dent in our waste-lines." Recently the area along with Mississippi, Louisiana and Florida's Gulf Coast took a hit from a man-made disaster: the oil spill brought to us all by British Petroleum.
We went to Orange Beach hoping to find things getting back to business as usual and we found this to generally be the case. Unfortunately, far too many tourists and visitors just don't know this yet, or assume the worst from the heavy media coverage recently broadcast around the world-rightly so, but now it's time to tell it like it is today!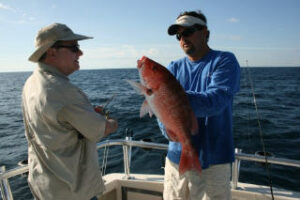 Our stay was well complimented by having been ensconced in The Beach Club 'Resort and Condominium project that had everything you could ask for in a great vacation paradise. The beaches were clean and white, the pool complex rivaled anywhere we have ever been that had this amenity, the restaurant served seafood's and various chef prepared dishes that were quite scrumptious. Our condo apartment rental was 1st class with a wide gulf- view right out our bedroom windows.
Barb grew up living on or near the various saltwater shore locations in New York and Long Island in particular. Her dad, Herb wouldn't have it any other way-he enjoyed and instilled in Barb the same love of the surf and sand at a few beachside communities that had been a boon to me too, as I love it all as well and got to fish into the bargain when visiting my then girlfriend, now 44-years my wife.
We've been to Orange Beach and Gulf Shores a few times and always loved the friendliness and cleanliness, and this time was like all the rest, except businesses had been suffering from lack of tourists.
However, based on many of the restaurants with busy tables full of patrons, you'd never think this was the case right now.
One of the restaurants we ate at: The Hangout where Rt. 59 ends and as they say: "the fun begins." Even Paul Simon came to entertain here at their Music Fest which featured scads of bands and entertainers such as Trombone Shorty & Orleans Avenue group, and the Flaming Lips too to name but a few! We were hungry for a great seafood dinner with king crabs too! We were not disappointed. Make a visit to their web site: www.hangoutal.com or call for more info. At (251)948-3030. The Hangout was one swinging place and everyone rousingly joined in the song and dance venues. The next night we we stopped by under the Perdido Pass Bridge at the Cobalt Restaurant. The views of Perdido Bay were spectacular and we ate in a sunset setting al fresco, just outside of the many windows of the inside restaurant. The foods were exquisite, can't recommend this place more highly and I tend to be conservative when recommending food emporiums, but not here. You can come by any size boat, or by auto. I tried their yellowfin tuna and avocado stack served between fried wontons-scrumptious, Barb had Spanish Paella-all in all a very memorable meal topped off with fried apple pie with ice cream and carmel sauce. Chef Jack Baker really does it up well.
www.cobaltrestaurant.net Call at 251-923-5300
We began our first day aboard a dolphin and nature cruise out in the back bay's of Alabama's Gulf Coast. Dolphins always fascinate me and as I believe anyone having a chance to get up close and comfy wit them. These playful cetaceans (they are in the whale family) are around all year in this area and together with the bird and other sealife made for a great beginning to our visit. Contact: www.cetaceancruises.com
Later in the day we visited the Orange Beach Art Center's hot shop for a glass blowing demonstration. This the first and only glass blowing studio in Alabama open for public use. It was founded in cooperation with Bear Creek Glass and the studio now welcomes nationally known resident glass artist Sam Cornman. WOW! The many moves he made with 2000-degree molten glass to make a magnificent arty piece of table-top collectible well worth the watching and the buying. For more information: www.orangebeachartcenter.com
The following day I went fishing for red snapper with another writer Beverly Hogg, who was as interested in a great bite as I was. We were not disappointed!
As the various trips were quite inclusive and exclusive, yet anyone reading this can enjoy all of the above, there are many more venues we experienced. So this is a two part article on Orange Beach, Alabama.
Please look for an additional article that will tell the rest of the story next month.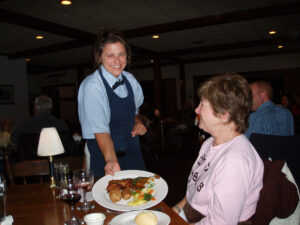 Planning a trip consider the real bargain that this area snuggled against Florida's Gulf Coast tip has to offer. Contact Gulf Coast Visitors and Convention Bureau at 800-745-SAND (7263) or go: www.gulfshores.com