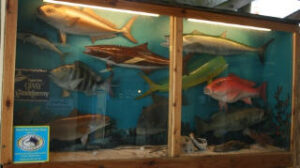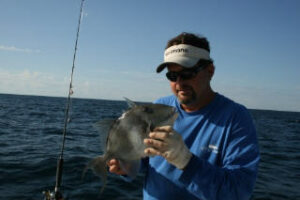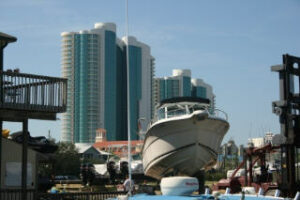 American Press Travel News–Part 2 of Alabama visit by Bob and Barb Epstein "On The Road Again"–After a great dinner at Lulu's-owned by Jimmy Buffet's sister. Lulu's restaurant has become an iconic emporium of drink and vittles, and the place was a real happening for families and anyone wanting to visit an American Caribbean spot full of fun and frivolities.
Last month's article ended with a trip out on the Gulf for red snapper with Captain Randy Boggs of Distraction Charters. Fishing was excellent and we caught and released several fish in the 3-6 pound class with a couple even larger. No, we could not keep any fish for dinner, but the catch and release that Captain Boggs believes is important for the future of the fishery and was A-OK with us too! Do I recommend this Captain? Absolutely! Beverly Hogg really enjoyed herself hauling in these strong-pulling red snapper.
(www.distractioncharters.com Give Boggs or Captain Troy Frady a call at 251-975-8111 These guys are terrific at what they do. Their mate, 39-year old Ken Wright had the right stuff too!
After the fishing we headed out on an informative nature cruise with Sailaway Charters-we eased our way through the estuaries and backwaters of Longs Bayou and Wolf Bay. We learned about oystering techniques, crabbing and shrimping which is big business in this area. We checked out the various sea-birds and had dolphin (major residents and fishers) come over to inspect us several times. For more information, visit wwwgeocites.com/sailorskip
The next day we headed for Weeks Bay National Estuarine Research and Education Center- we meandered along a 5,000 foot elevated boardwalk that winds through 6,000 acres of coastal habitats and wetlands, including a protected estuary.