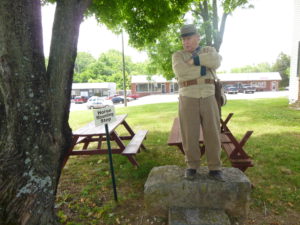 American Press travel News–July 9th, Bob & Barb "On The Road Again"-Once in the city of Morristown, we had visited with Anne G. Ross, Director of Tourism at the Area Chamber of Commerce Office. Anne sent us on a very informative itinerary that covered just a bit of the great things Morristown is all about.
We checked out part of the Lake way Area that included a visit to Cherokee Lake. The fishy lake has over 700-miles of shoreline. The ubiquitous largemouth and smallmouth bass are king here. We visited with shoreline angler's cat fishing, and looking for brim and crappie. Everyone was having a great time, as the water was clean and clear and the temperatures were warm, but mitigated by a nice shore side breeze. We visited with Sam & Delores Phillips owners of Morristown Marine. Sam discussed the seven bass tournaments he runs each year on Lake Norris, Cherokee, South Holston, Watts Bar and Douglas Lake. He has 910 members of his invitational only events. They draw 220-230 boats for each event. Winners take home big bucks per event, ongoing for over 11-years. https://www.morristownmarine.com
Always interested in history, we headed over to the General Longstreet Museum. The historic home was used by General James Longstreet as his Civil War Confederate headquarters in the winter of 1863-64. The site includes a replica of an 1860's tailor shop where Director Kelly Ford makes period military uniforms. We met up with "Dewey" a very serious Civil War buff, and he regaled us with a blow-by-blow of various Civil War skirmishes, dressed in a Confederate military outfit, he laid out everything he knew about General Longstreet's life and times. Dewey is a very serious historian and really knows the full history of "everything" Civil war https://facebook.com/generallongstreetmuseum
We spent some time at the Rose Center of the Arts with Executive Director Beccy Hamm. The arts center is housed in an 1890's Victorian school house. The center is the cultural arts hub of the Lake way Area. Gallery exhibits, performance spaces, meeting places and a sales gallery. We also met up with representatives from the Morristown Theatre Guild and Theatrical Company where we learned of the many shows slated for the coming months. Go:  https//:www.rosecenter.org
Panther Creek State Park was quite spectacular, Jason Chadwell, Park Manager showed us the incredible sites including an overlook of Lake Cherokee. We also met Craig Price who discussed the newest and most challenging 18-hole Disc golf course. No clubs, just special Frisbee discs thrown into basket-catch hoops.
Hillbilly's Cabin Restaurant was a fine breakfast spot. We enjoyed Spanish Omelets' and real coffee! Then we were off to the Meeting Place Country Store & Antiques, and did some shopping for fun oldies but goodies!
Yes, Davey Crockett grew up here and since that time so long ago, so did generations of other families and pioneers in business, industry, medicine, the arts and sports!  For more info go: facebook:Visit Morristown or facebook: retire Hamblen County, TN.
Next week take a peek at The Whitestone Inn on Watts Bar Lake!