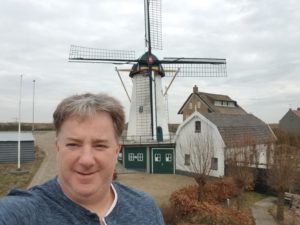 American Press Travel News-March 9th, Breda, Holland-Correspondent- David Epstein–The next stop on my business trip was Breda, about an hour half toward the west in the Netherlands.  I'm staying at the Hotel Nassua Breda on Niewustratt Street. This street is one of the oldest streets in Breda dating back to 1350. The hotel sits at 21 Niewstratt, which was first owned by Bruheze family and sold to Lambrecht, lord of Waelwijc in 1539, which is how it got its original name, Huis Waelwijk. 
Through the years the house was owned by private owners until 1805, it was then purchased by the Parrish of Holy Anthony and converted to an orphanage.  In 1849 the Order of Franciscan Sisters settled in, and renamed the house Het Liefdegesticht "Asylum of love".  In 1903 they bought the next door soap factory, and created a neo-Gothic chapel. They further kept expanding through 1950, which gave the huge complex the final shape.  This created a huge Labyrinth behind several combined homes that is now Hotel Nassua Breda, opened in 2016.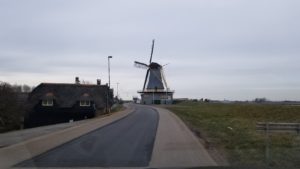 The Hotel is ultra-modern like any high-end hotel, however it fields tons of old character, every corner is a new experience, There are Nun pictures on every wall. They also offered a great breakfast, overlooking one of the old chapels that is now a delightful meeting space for the Hotel.  I checked in without a working TV, which turned out perfect, as it forced me to get out and visit this old historic town at night. Different from the big city of Amsterdam, it is quiet and by 6 PM  everything is closed with the exception of some Restaurants, so families can be together.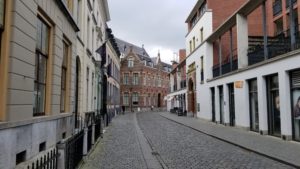 I was able to take a day, and a few free nights to tour the area which has 60 plus restaurants within a 5 minute walk in this city center. Driving around the local towns, all take you back when life was a little simpler. Some of the farms which lack fences mostly as the homes and land are divided by canals still have useable windmills.  Locals take great pride in 100's of years of family owned property that is passed down through generations. You won't see school buses, but paths and shared roads for school aged, and adults to ride bikes miles to get to work or school. Parents used push bikes were everywhere taking young children along for the ride.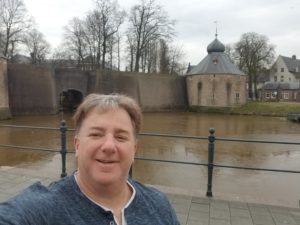 Walking around the city, history is everywhere, cathedrals, old forts, homes with great architecture and all were close walks from my hotel.  The city, as in most in Europe are all full of walking paths, and all thought out, to bring local towns people together.