The Fredonia Opera House built in 1891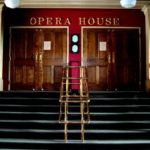 AmericanPressTravelNews.com – July 11th – Fredonia, New York is a small town located in Chautauqua County, New York. Bob & Barb "On The Road Again."
Unique to Fredonia New York is the Opera House. Located in the downtown section. Built in 1891, it is a year-round performing arts center. Currently, it offers a variety of live performances, presents a cinema series of first run independent and foreign films, and serves as a rental venue for community meetings,  debates, weddings and performances. For more information call: (716) 679-1891. Their website is: www.fredopera.org.
Just down the street is the Ellicottville Brewing Company – EBC. Located at: 34 West Main Street. Fredonia, N.Y.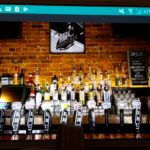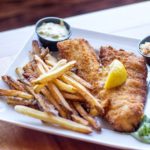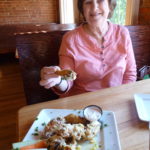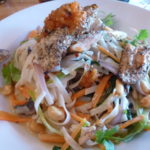 Barb and I enjoyed a nice and tasty dinner in this pub. We ordered the garlic chicken wings, lots of them. They were amongst the best we have ever ordered. The wings came with their home-made bleu cheese, carrots and their special house sauce. Very crispy, and not greasy. After looking over the menu for their main course, we decided on their fish n' chips. The fish was coated in EBC Two Brother"s Pale Ale beet battet and Japanese bread crumbs, then deep fried. The dish came with crispy fries and Coleslaw.  We had Pad Thai noodle and chicken dish. It had light spice with al dente' noodles. The noodles were covered with broiled chicken strips. It was the special of the night. The locals commented that they have a terrific burger.  They have dining on their patio. Since they are known for having over a selection of 20 local and hard to find craft beers. We sampled a few. That was a treat.
Take a look at their website: www.ebcwest.com or www.ellicottvillebrewing.com. Many evenings they are very busy, so call for reservations. (716) 679-7939.