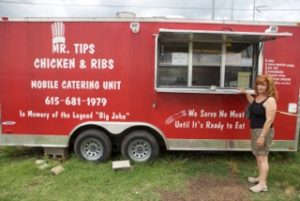 American Press Travel News-June 7th, Smyrna, TN. from Correspondent, Joel Lucks— OK, this is another one of those incredible finds for those living in or near Smyrna, TN. Mr. Tips' roadside food truck. You'll pass it if you're not specifically looking for it. But the fall- off- the- bone, incredibly delicious BBQ ribs are beyond compare. It's worth the stop, even if you're not looking for a full meal. Truly, this has to be a generational recipe and technique that's been handed down; if not, it could be. The ribs are big and meaty, with a finished crust that peels off the meat and yields some of the most succulent rib meat I've ever tasted. The meat is moist, juicy, and has just enough smoke, not overpowering, that really rounds out the taste.
We haven't tried the rib- tips or the sausage, yet, but I have a feeling we won't be disappointed. We've driven by this place hundreds of times, and most of the time it's closed. That's because they're open only on Fridays and Saturdays, all day. There's a food truck on the property and the smokers are behind the truck; once started, they are constantly smoking while the food lasts. When we rolled up, Travis (Mr. Tips) came out to say hello and introduce himself. He started the business about three years ago, and pound for pound, dollar for dollar, his ribs are some of the best ribs we've ever eaten. After devouring our first take-out, I called Travis back and asked him what kind of ribs they were: "Just spare ribs." Yeah, but they were big spare ribs! They have a proprietary rub, plus a base, and they smoke 'em over hickory wood for three hours.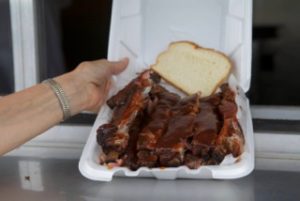 From Sam Ridley Parkway, take Old Nashville Highway, south, heading towards Murfreesboro. Check them out on Facebook, for more specifics, or give Travis a call at (615) 681-1979 and tell him Joel and the Redhead sent you!