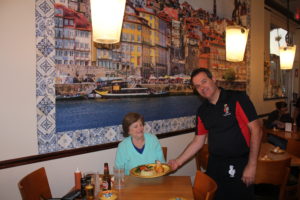 www. American press travel news-December 20th, Bob and Barb "On the Road Again" this time to Luso Portuguese Grille—-This restaurant was a treat for us!
We sat down to a feast of steam sautéed mussels in abouillabaisse garlic, of bacon and tomato broth (so good to soak up with little fresh rolls) a salmon dish of memorable creation, topped with crab, and grilled shrimp, plated into a sauce that was frankly, unforgettable. The rice was special and spectacular too. We began our meal with Caldo Verde soup, and a freshly made chicken and rice soup-terrific, promise!
 A Half-grilled chicken was brought to the table with home-made,and very different French, or should I say Portuguese sliced potatoes, best taters ever! The sauces and marinades make their offerings uniquely Portuguese, exotic. From their Flambee European sausage grilled at the table, to the Pasteis De Tentugala- sort of Cannoli ala Portugal style, filled with an almond paste, this comfortable eat-in, or al fresco restaurant (also caters) located in the old Tin Fish Restaurant, across from Tradition- Publics, is a "10", but this is not a pricey eatery!
Barb and I love to head out from our Tuscany home to visit true mom & pop restaurants, especially if there is an ethnic component aspart of that restaurants background. Portugal is a beautiful country, and as being a world travel writer, one of my favorite meals was on the Island of Madeira-the wine Island of Portugal. Well, as I want my fellow Kings Isle residents to also have a chance at the exotic, Barb and I went over to Tradition Center to meet Sandro Raizler, owner and restauranteur of his new Luso Portuguese Grille. We weren't disappointed, you would have to go to Portugal to find the seafoods and other items prepared in the old-world style. Freshly sourced items, Europeans enjoy.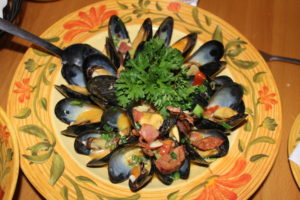 Go: www.lusogrille.com